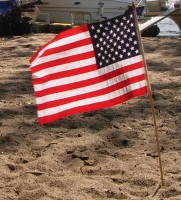 There isn't anything much more American than spending the 4th of July weekend at a state park.
While simply going for a hike, a bike ride, or a paddle is a sure-fire way to have a good holiday weekend, the parks will also have lots of programs to offer.
From live concerts to boat parades, we've picked some of the most promising events scheduled at parks across Minnesota this Independence Day.
Keep reading to find the program or event that's right for you and your family!
Thursday, July 1
Nature's helicopters
Want to sneak in a little education for your kids while you're getting away? Well, kids like bugs, so they might not even know they're learning anything if you take them to the "Dragons in the Air" program at Sibley State Park. The park is home to more than 20 different varieties of dragonflies, and the program will feature a walk to go find some!
Jay Cooke's history
The first land in what is now Jay Cooke State Park was acquired 95 years ago. Since then, two different Civilian Conservation Corps camps constructed buildings and bridges at this park along the St. Louis River, just south of Duluth. Learn all about the park's fascinating history, as well as how to spot signs of its past, during this talk. (8 PM to 9 PM, River Inn Visitor Center)
Friday, July 2
"Granite, Oak and Men"
Speaking of Great Depression-era history, Sibley State Park is offering a talk about the World War I veterans who lived and worked at what became the park, building many of its structures. (2 PM to 2:30 PM)
Explore the night sky
Friday night at Nerstrand-Big Woods State Park, University of Minnesota scientists will share their telescopes and their knowledge of the heavens at an astronomy program. (8:30 PM to 10 PM)
Saturday, July 3
Get your feet wet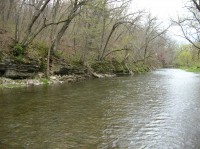 There's no better place to be on a hot summer say than knee-deep in a cold, clear trout stream. Visit Forestville/Mystery Cave State Park to learn about why the park's rivers are so well-suited for picky trout and other aquatic life. Wear some old shoes you can wear in the water! (10 AM to 11:30 AM, meet at the amphitheater.)
Free outdoor concert
The musical due of Dancing Light tour the country, but call northern Minnesota home. They released their first album in 1993 and continue to perform and record. Enjoy a relaxing night of music under the pines at Itasca State Park. (7 to 9 p.m. in Forest Inn)
Lives and legends

At Flandrau State Park, enjoy stories about famous Minnesotans and Americans, told by master storyteller David Berg. Stories will include those of John James Audubon, Jonathan Carver, Zebulon Pike, James J. Hill and more. (7 PM to 8 PM)
Sunday, July 4
An Independence Day armada!
Take to the waters and join a boat parade down the Tamarac River in Big Bog State Park! Decorate your boat or simply wave a flag. The parade will start 2 miles up-river from the campground at the Steel Bridge and end at the Hwy 72 Bridge. The parade will be followed by a potluck at Hillmans. (2 PM to 3:30 PM)
All aboard!
Enjoy a mile-long hike through William O'Brien State Park to train tracks, where you'll hop on board an antique train and ride in several miles up the river to the town of Osceola, where you can either get off to explore the town and get lunch, or continue riding to the turnaround at Dresser, WI. The train will stop again in Osceola to pick folks up, and then return to the park. A naturalist will ride along and talk about the history and landscapes of the St. Croix River valley. Cost is $15.00 for adults, $10.00 for kids under 16, and children under 4 ride free. (10:30 AM to 3:30 PM, meet at visitor's center.)